Facilities
Waiting room with veterinary weighing scales
We operate a 'one way system' for dogs at our centre. Dogs enter via our waiting room and exit from the pool room. This helps avoid dogs having to meet when arriving and leaving the premises. We also have a set of veterinary scales to help us monitor your dogs weight, when necessary.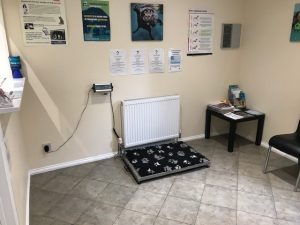 Pool room containing heated hydrotherapy pool, dog shower, dryer and non slip flooring.
Our pool water is chlorine based and is regularly tested to maintain the highest standards of water quality. The temperature is kept around 30 degrees Celsius. There is ramp access in and out of the pool .
A walk in dog shower is provided to be able to wash your dog off after his or her hydrotherapy session with a dryer/blaster available to ensure the patient goes home warm and dry (please bring your own towels too!). The flooring in the pool room is made from artificial grass which is proving extremely popular with our post operative clients due to it being a non slip surface. Hygiene is important to us, all floors and equipment used on the dogs are disinfected with veterinary strength disinfectant.
Underwater Treadmill Room
Our underwater treadmill is free standing in it's own room with non slip artificial grass flooring. A walk in shower is provided to wash dogs off before and after their session.
Physiotherapy room & Gait Analysis Treadmill
A separate room is available for physiotherapy clients where an array of physiotherapy equipment is provided to cater for all rehabilitation needs. We also have a 'fit fur Life' Gait Analysis treadmill that can measure and analyse your dogs gait, using special sensors that feedback the information to a computer software program. This can then be made into a report for you and or your vet.