Staff
Tina McAdam
Tina McAdam is the centre manager, a qualified Veterinary Physiotherapist, canine Hydrotherapist and fully insured member of IRVAP (Institute of Registered Veterinary and Animal Physiotherapists). Tina carried out her physiotherapy training with CEPT (Canine and Equine Physiotherapy Training) and is able to treat both large and small animals under veterinary referral. Tina is also a qualified ICAT (Institute of Complementary Animal Therapies) Canine Massage Therapist and holds a level three certificate in small animal hydrotherapy. Tina has worked with a variety of animals for over 20 years, in particular equines and canines. She has a keen interest in the rehabilitation of canines following orthopaedic surgery. Tina also specialises in treating canine athletes such as agility dogs and competes in the sport of dog agility herself. She currently owns three dogs, Border Collies – 'Cruz and Odin' and her daughter's Jackapoo 'Lilly'.
Tina also holds a Clinical Educator's Certificate and helps to train Veterinary Physiotherapy Students both at Nottingham University and on placement at Carnfield Hydro.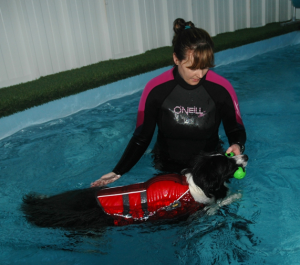 Becky Gibson
Becky is a qualified Veterinary Physiotherapist and Hydrotherapist and a fully insured member of IRVAP (Institute of Registered Veterinary and Animal Physiotherapists).
Knowing she always wanted to work with animals, Becky decided she wanted to train as a Veterinary Physiotherapist after one of her dogs had physiotherapy treatment following an injury and it proved key to his recovery. Becky went on to study for a degree in animal studies, followed by an advanced certificate in veterinary physiotherapy with Canine & Equine Physiotherapy Training and most recently a level 3 certificate in small animal hydrotherapy.
Becky has 2 spaniels, Benji & Reuben, and together they enjoy training and competing in dog agility and scentwork.
Becky works part time at Carnfield, the rest of the time Becky runs Bouncing Back Vet Physio, a mobile physiotherapy service covering South Derbys/Notts/Leics. www.bouncingback-vetphysio.co.uk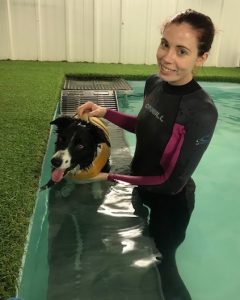 Katie Bloor
Katie is a qualified Hydrotherapist, Veterinary Physiotherapist and member of IRVAP. Katie started her career as a Hydrotherapist in 2013 and in 2019 started her training in Veterinary Physiotherapy to expand her knowledge and skills. She successfully qualified in 2021 and joined the team at Carnfield as a full time member of staff in December 2021.
Katie owns two dogs, 'Squid' and 'Koda' whom she competes with in obedience and rally.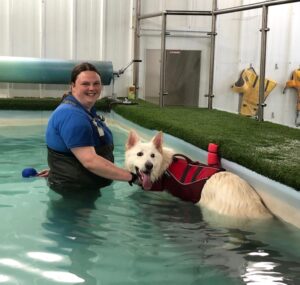 Amanda-Jayne Bell (AJ)
AJ is a fully qualified Veterinary Physiotherapist & Hydrotherapist as well as a fully insured member of RAMP & IRVAP.
AJ has had a passion of all things animal since a young child. Following a career with horses, during which time she trained with classical riders and qualified as a Tellington Ttouch practitioner (for horses), she trained and qualified as a Veterinary Physiotherapist and small animal Hydrotherapist. AJ is currently working on obtaining her canine Ttouch certificatation.
AJ joined the team at Carnfield in January 2022, working 3 days a week. Outside of this she runs her own freelance business Black Cat Veterinary Physiotherapy, covering the East Midlands. She also has 4 horses, 4 cats and Marlie the cocker x spaniel.