Staff
Tina McAdam
Tina McAdam is the centre manager, a qualified Veterinary Physiotherapist, canine hydrotherapist and fully insured member of IRVAP (Institute of Registered Veterinary and Animal Physiotherapists). Tina carried out her physiotherapy training with CEPT (Canine and Equine Physiotherapy Training) and is able to treat both large and small animals under veterinary referral. Tina is also a qualified ICAT (Institute of Complementary Animal Therapies) Canine Massage Therapist and holds a level three certificate in small animal hydrotherapy. Tina has worked with a variety of animals for over 20 years, in particular equines and canines. She has a keen interest in the rehabilitation of canines following orthopaedic surgery. Tina also specialises in treating canine athletes such as agility dogs. She currently owns three Border Collies, Alfie, Will and Cruz, with whom she competes in the sport of dog agility.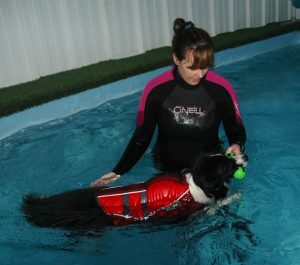 Ken Gumbley
Ken is a qualified canine hydrotherapist and joined the team at Carnfield in July 2015. Ken has a passion for working with dogs and has spent much of his time working with German Shepherd dogs, training in field and trials in Germany for Schutzhund titles. He also has an interest in fitness training of sports dogs using the underwater treadmill.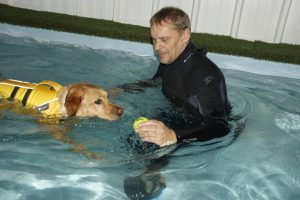 Dr Audra Hurst
Audra is a qualified veterinary physiotherapist, and is currently training for her level 3 certificate in small animal hydrotherapy. Audra currently has two dogs, and an injury in her collie, Cara, meant she had to retire from agility early. It was this that inspired Audra to change her career and become a veterinary physiotherapist. She is currently training her young collie-cross Pedro in various sports including working trials, agility and obedience and is very interested in injury prevention and treatment for dogs that compete in all these sports.